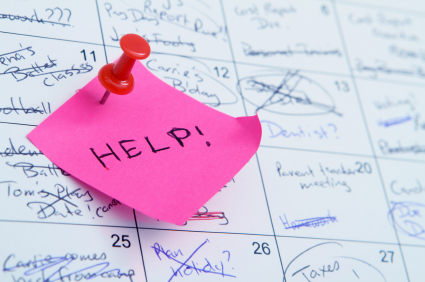 Time Management – Beyond Making Lists
When I first started as a faculty member, I had ample hours in my office uninterrupted.  All of the jobs I wanted to get done were usually finished within a reasonable time and I felt very productive nearly every day.  However, as I taught an increasing number of students, expanded my areas of teaching expertise; then the productivity I had once felt slipped away.  As the pressure on my time increased, my ability to organize and prioritize became scattered and I left my office most days with a briefcase full of more work that never seemed to stop and an inbox full of requests that overwhelmed me.
To tackle my time issues, I tried to do what I did as an undergraduate; generating a daily to-do list. Unfortunately, a simple list didn't work as well anymore. I needed to determine what my priorities were, and clear out anything that was a time vampire if possible. Based off of that, I then allocated time and restrictions so that I could get to most of my priorities, most of the time.  I also noted which of my jobs really required hours of no interruption and others that could be done when I was exhausted post lecture.
HIGH VALUE PRIORITIES:
1. Delivering productive lectures (this requires at least a few hours in a row with no interruptions)
2. Aiding student learning outside of lecture (can happen scattered throughout the week)
3. Student counselling
4. Developing content and teaching methodologies that work (researching others work on this and researching my own practices)
5. Being punctual and dependable
Based on what I thought were the most valued things that needed to get done, I then started to allocate time. I also communicated my boundaries to my students since although they were priority, they could easily take up all of my working hours….leaving my emails to pile up on me.
Boundaries:
– Responding to emails within 72 hours (excluding the weekend-this does not mean that I am not working over the weekend but it gives me a break to get other work done as necessary). Unfortunately with our current texting culture, there seems to be an assumption that all requests can be answered right away.  Realistically, this is not possible when my average email volume is approximately 50-100 emails daily, other colleagues receive more than that.
– There are no drop-ins (with the exception if it is an emergency).  I have set office hours and build some flex time for students with appointments scheduled outside of those time frames if necessary.
– Reference letter requests need to be made with at least one months notice. I also limited that I won't write letters of reference for students who have just taken my first or second year course due to the high volume of requests I get.
Organizing my week:
I have two daily tasks, answering emails and responding to forum posts. I try and reserve the first two hours of every day to emails, and usually four hours on Mondays from the weekend back up. I continue to look at my email throughout the rest of the day, but I only respond to the ones requiring my immediate attention after my email time is finished. Anything else new can wait until the next day.
Office hours happen twice a week for two hours each, although I may have to rework this as I can't seem to get to the whole line up that lingers down my hall. I try and set these up to occur directly after lecture because my brain prefers a break from the computer screen.
Fridays afternoons are always for reference letters. Shockingly, I actually have a continuous level of letters that I have agreed to write and can fill every Friday for the whole year (including the summer). Last year, I wrote just under 100 letters of reference for Medical schools alone.
Lecture prep (this is a polish time, not a time to create brand new slides,….that happens over the summer and winter break) happens on Sunday evening, Monday afternoon, Tuesday afternoon, Wednesday and Thursday evening.
The rest of my time is filled in with all other jobs (creating exam questions – I try to write these directly after each lecture, correcting notes from a given lecture so that I know what I want to change for the next year, working on my research project, marking papers, meetings, etc).
My last top priority is education research projects. Since the year is usually so full, I rarely get a chance to do this planning or analysis during the year and therefore use most of my summer up on these jobs (that is right, even if I am fortunate to not have a class to teach during the summer, there is no summer off).
I have found that this structure has definitely helped me to be more productive and feel more satisfied.  More importantly, when those time of the year that are most stressful occur, I have a framework to work off of and although I have to move into triage mode, I can more quickly resettle into a regular work schedule by having the structure to begin with.  Very rarely have I forgotten a meeting or missed a deadline even during the peak busy season. Since many of us don't have jobs or lives that are structured with a minute by minute task list, it is up to us to create our own structure and hopefully remove the noise and chaos to get the most out of the day.  Most certainly as a student, creating structured work times outside of class is a must so do take the time to have a plan for "how to" manage your time.