The Pregnant Prof
Yes, I am pregnant (and thrilled!).  I somehow made it through the first few weeks of lecturing while feeling terrible.  But now the pregnancy is quite obvious (how did that happen so fast??) and my regular clothes no longer fit.
The last time I was pregnant, my teaching load wasn't nearly as heavy, so the wardrobe selections weren't as pressured.  When I'm not pregnant, I feel the pressure to keep my teaching wardrobe fresh, stylish and still professional.  I have to say I am feeling as stressed about how to dress my baby bump as I am about the actual lectures. I spent the day organizing my closet, putting away those lovely things that will have to wait until post-partum to fit again.  Thanks to some lovely Christmas gift cards, I went out to pick up some professional pregnancy items to fill out my closet.
A maternity wardrobe does not need to break the bank. I always wait for sales, and I repurposed some of my previous wardrobe.   Here are my tips to building a professional maternity closet:
1. Keep the bottoms in a slim silhouette.  There is no need to wear big and baggy everywhere especially if your tummy is the major expander. I make sure to have one pair of slim silhouette dress pants, dark denim (preferably in a skinny leg), two pairs of leggings (one grey, one black), and a pencil skirt.
2. I like to expand my closet by purchasing separates, making outfits more versatile.  Dresses are fine for once in a while, but the bigger bang for your wardrobe is to pick up skirts, pants, and tops.
3. I don't usually wear a lot of dresses when I teach. The biggest reason is the lack of area to clip on my Mic pack. However, dresses are so comfortable and easy to wear. I black dress is easy to make look fresh by accessorizing, but a nice bright coloured dress is also nice so it doesn't look like I am going to a funeral every day.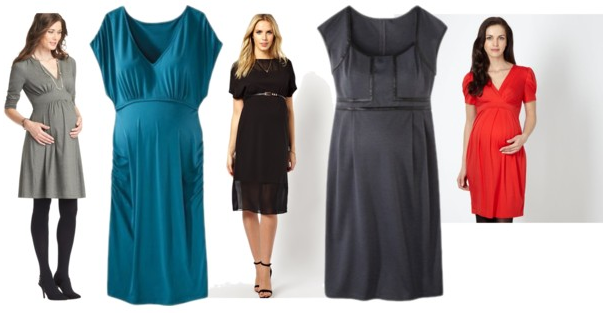 4. My biggest splurge in a maternity wardrobe are the tops. Students won't usually notice that you are wearing the same pants as two days ago, but they will certainly notice the same top.  As with my regular wardrobe, this is where I have the most pieces. I try to go with blouses that can be worn lose or belted (making them look "different"), slimming colours and small patterns. I don't usually like loud patterns because I feel they overwhelm my frame and make me look like Miss Frizzle.  But pregnancy is also the time to embrace the horizontal lines to accentuate a growing bump. Plus anything that is more casual looking can be made to look more formal by adding a cardigan/blazer/scarf/statement necklace.

5. Repurpose what you already have. You really don't need to buy a maternity blazer or cardigan. I never button mine anyway, so I use what I have. I repurpose my boyfriend blazers to keep the length with my long tunic tops, and all my blazers work right up until the end of the third trimester.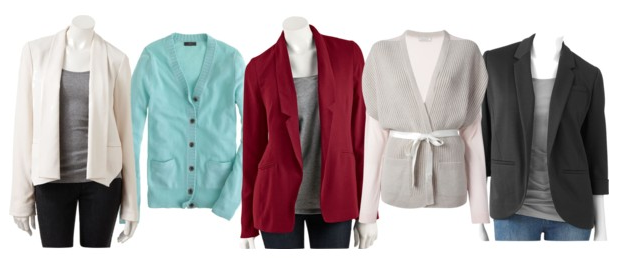 Just because you're pregnant doesn't mean you can't have fun with clothes. I make sure I keep dressing well because I find it helps with my mood, pregnant or not.  However, I also have a pair of comfy yoga pants to put on at the end of a hard day of work. Being pregnant itself is hard work let alone the task of sounding brilliant on a daily basis!