Guilt
Specifically, reference letter writing guilt…..
I write a lot of letters of reference. I really do enjoy this part of my job, although sometimes I complain about the crunch it puts on my time.  But when I get to write for students who I actually know, and have had for a number of years, it makes me happy to know that I can help them on their way for future careers.  Most of my letter requests begin in the spring for the upcoming medical school letters (both for the American and Canadian Medical Schools).  However, letter deadlines and requests never really stop as there is always a scholarship app, graduate school deadline, etc rolling throughout the year.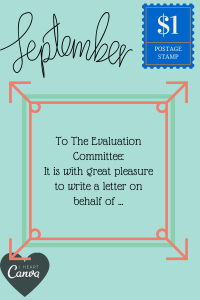 This year is different because my maternity leave spans the most intensive letter writing time.  Intensive may sound like an extreme word for what may seem like a pretty short task but letter writing is never quick (if you would like a comprehensive and personal letter….the ones that are worth asking professors for) and for me is intensive. Last year I wrote 55 letters of reference for Ontario Medical Schools, 42 for American Medical Schools, a few for McGill, Calgary and Dalhousie plus 12 letters for American Dental Schools.  All of these were due beginning June 1st until September 30th.  I didn't record how much time in total all of this took because many were written in the evenings, during my lunch, in between appointments etc….but at least 100 hundred hours worth of time since most letters take me at least 1 hour to write with all read throughs and edits.  Also, word smithing for me takes a lot of time to get the sentences just right, so it really takes a lot of my brain power to do.
Here I am on maternity leave and my brain is definitely functioning sub optimally.  My two month old is just starting to sleep longer at night giving me more than 2 hours in a row of sleep.  My day is consumed with feeding, burping, diaper changing, washing baby clothes, entertaining my four year old, and trying to do all the things around my house I didn't have time to do when I was working full time. Needless to say, time is precious and writing letters "on the side" while on my maternity leave is NOT in the plans.  NOT fair to me to use my time while on maternity leave to write letters, NOT fair to the students who deserve well crafted letters and NOT fair to my kids who deserve my time on this very very short maternity leave. Although I know all of these things and I know I made the right decision to say NO across the board for all Medical and Dental letters for this upcoming academic year, I still feel guilt.  Guilt is a terrible thing.
I have reminded myself yet again that it's okay to be a "no" person sometimes especially when I am a "yes" person almost all of the time.  For 6 months I get to spend amazing quality time with my little two boys. I get to bake pies and play snakes and ladders, go for a walk to the splash pad, build pillow forts, collect bugs and not have to think about deadlines at work.  Although I am sure I will enjoy going back to work and all the great things I get to do there, I will certainly feel the mom guilt of being away from my guys.  I guess guilt is just a thing you have to shake and know that you have made the right choices in life.